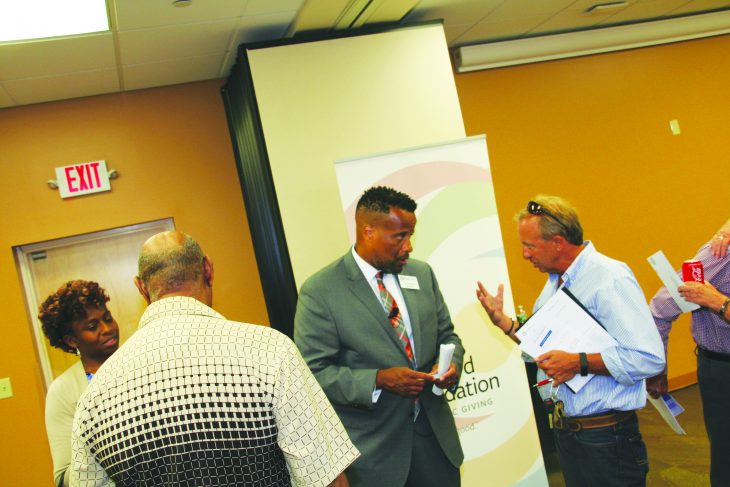 Foundation's Listening Tour Stops In Hartford
Since January 2018, the Hartford Foundation for Public Giving (HFPG), serving some 29 towns in Greater Hartford—hundreds of nonprofits and over 750,000 residents, on track with a "listening tour," that started out with an event in Hebron, crisscrossing through the Hartford region and stopping recently at the Chrysalis Center, 255 Homestead Avenue, Hartford. This stop drew the largest gathering—including neighborhood residents, small organizations, businesses, other local groups and folks with interest in the city of Hartford. Jay Williams, the Foundation's president since 2017, gave a warm welcoming remark and presented a brief video, highlighting the Foundation's mission and accomplishments, and skillfully set the tone for the evening under the caption "Greater Together 2018."
What are some challenges in your community? What are some challenges that concern you most about your community? Williams asked. "This is your community and our community, too," he said. And the Foundation is committed to go where the people and program activities are, listen to residents who understand the pulse and heartbeat of their community's needs, gathering their views on what works for their community and to better understand where it is best to direct grant money. "Our role is to bring members of the Greater Hartford community together to identify and understand local problems, and put resources to bolster effective solutions. We strive to advance our vibrant region by being both responsive to the community and as a strategic leader," Williams said.
In response, a dad, who describes himself as a single parent, was the first to open the interactive conversation in which he underscored the gaps in quality education in Hartford. He said that as a single parent, he chose to send his kid to a suburban school because he wants his child to have quality education. According to him, there is no provision to help single fathers who are interested in quality education for their children. In fact, there is a huge gap in services for single dads. As the gap widens there are less fathers. He sees a need to cultivate opportunities to serve more men and encourage more men to work with men.
A significant segment of the conversations with Williams centered around education issues–school-parents' partnership and engagement; quality education for children, parents' participation and their not being fully aware of their roles and responsibilities; the gaps in the arts and in the inclusiveness of all cultures not represented; the economic well-being of families and the city; more support for the environment; regional cooperation—a stronger Hartford leads to a stronger West Hartford, East Hartford, and more college preparation for academic success. Williams showed that in particularly over 10 years, the Foundation has invested some $21 million in education in Hartford.
There is a consensus among attendees that the Foundation needs to include community input— representatives of the rich diversified cultures brought around the table and not only the so-called large organizations with connections. Some of the small organizations in attendance remarked that their needs and demands are great. For example, a speaker related that in responding to the opioid crisis, stipends are offered to help as capacity is being built but managing cash flow can present challenges.
Along this line of the discussion, another individual remarked that utilizing volunteers in nonprofit organizations is good, but there are some limitations as small nonprofits overstretch themselves. Nonprofit organizations can't depend on volunteers to carry out some essential services; paid staff and accountability are vital. Continuing the dialogue on the challenges in the lack of quality education facing students. Other gaps in services were raised: For example, issues around the arts and cultures. These play important roles within schools and the economics of the city.
Williams said the Foundation is looking into creative ways to collaborate with organizations; there are unlimited ways to partner, and there is a need to discover what those are. Nonprofits connecting with schools can become partners in rendering support to students and their needs. And as the conversation continued, another challenge within schools surfaced—there are students experiencing serious socio-emotional and socio-cultural needs. It is critical for schools to be connected with parents, families, and the community.
David Monroe raised his concern on gaps in literacy, numeracy, and lack of proficiency spilling over at the college level. This is troubling and signifies to him that parents were not active participants in their children's schooling while they were in grades K-12. In fact, he passionately said that parents must be included in the solutions in the educational processes of their children. Then another speaker acknowledged resources for early childhood education, but what about resources for college students who are struggling because they were ill prepared for college work.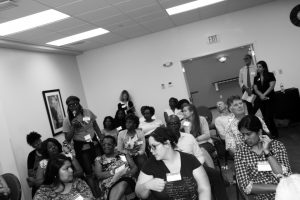 Where are the resources for preparing students to succeed in college and beyond? Also, what of post- secondary training and acquiring skills for employment and being prepared for the demands of the work force? There are some scholarships, but are there other resources that can help? Some students are showing strides in test scores, but many are struggling and there is a lack of quality academic after school programs. Also, there is the issue of economic development—how to help everyone who wants a job, get a job. Certainly, economic development is not separate from education and all other interrelated areas.
School-parent partnerships can lead parents becoming as participants, understanding school and education jargon, and parent empowerment, helping parents to advocate for themselves, connecting with necessary resources. The consensus among attendees is that parent collaboration is the key. David Monroe said parents ought to be involved in the education of their kids. This would certainly reduce the deficits and gaps in children's education as they seek to climb the academic ladder. Parents sending their kids to far-away schools in the suburbs because they believe their children will access quality education, but this is not a solution.
Parents ought to be engaged and become partners with schools in the communities where they live and their kids attend schools within such settings. All these are necessary. Let's utilize all available resources, collaborations and partnerships that lead to success. Kudos to Williams in hosting the "Greater Together 2018" conversations carrying out the Foundation's mission, putting philanthropy into action to create lasting solutions that result in vibrant communities within the Greater Hartford region.