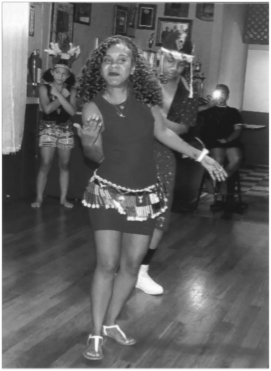 JeAndra Does It From Her Heart
Rising above the odds and excelling in whatever she chooses to do is the passion of JeAndra Davis-Marcellin, who is the coordinator of Dance Fever Rhythm Fusion summer program, which is geared to help youngsters find useful things to do with their lives.
The program that was held for six weeks at the Sportmen's Athletic Club during the weekdays offered training in a variety of areas to the 19 youngsters who participated.
JeAndra, who holds a degree in communication and television production, says that she developed the passion to get involved in this type of work at an early age. "I was inspired by my late Jamaican-born grandmother Vera Davis, who I grew up with," she said.
"I created the company Beauty, Entertainment and Artistry (BEA), in honor of my grandmother, a loving soul who always helped everyone, especially children, wherever and in whatever way she could. One thing she always stressed to me is that whatever you aspire to do, always do it from your heart. This is the best way to give back," she said.
The theme of the program was to reconnect the children with their African and Caribbean culture and history through artistry. "As the movie Black Panther showed our rich African culture, we wanted to continue to teach it to our children. Because BEA is founded for the honor and legacy of my grandmother, we thought it was right to use a female leader like legendary Maroon chieftainess Queen Nanny as our representative and the focus for the dance performance that we practiced to use in the West Indian Independence parade. The dance would be our tribute to my grandmother Vera and Queen Nanny."
"The program got started when I was successful in receiving the grant from the Connecticut Artist Fellowship," she said. "We then proceeded to promote my plans by social media, advertising, and word of mouth. The response was very good. We got good support from the 'Go Fund Me' program and a lot of individuals who came forward and donated."
Although dancing draws most of the kids to the program, we are working on making the kids more rounded individuals," she said, "so we are teaching them African and Jamaican history and other subjects like drumming, drama, choir, discipline, martial arts, and how to act whenever they are faced with any aspects of bullying."
JeAndra is a very good dancer herself, something she learned from her mother Jean Davis, one of the instructors at the program. Her mother who is well known in Hartford has been dancing for more than 30 years. Other instructors who assisted were: Gayle Peterson, choir conductor; Shalon Ricks, African dance teacher; and Richard Anderson, marketing and promotional director.
Since leaving university and entering the professional world, JeAndra has used her talents to encourage youngsters about the importance of not only getting a good education. She emphasizes exercise good discipline and believes that education is one of the most valuable tools for empowerment and finds it very rewarding to help youngsters realize their dreams.
JeAndra, who is very pleased with the success of the program, says that she hopes to make it an after-school program. "The children seem to be very delighted with what we are doing, so as the word gets out many more may want to get involved," she said. During the summer program, they were provided with free breakfast and lunch.
The program closed down on Sunday, August 12, with a very entertaining performance, which was staged by the children at the Sportmen's Club. They delighted the gathering with selections of recitation, singing, and exciting dance performances that drew appreciative applause from the parents and other members of their family who were in attendance. The children were also presented with school backpacks.