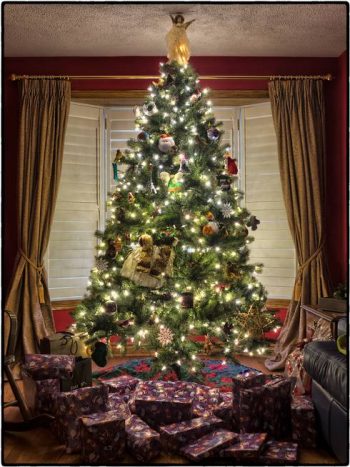 Brief History Of The Christmas Tree
Who does not admire the beauty of a well-lit and decorated Christmas tree? Certainly, it brings a sense of serenity and fills our hearts with the joy of the Holiday Season during this festive time of the year. One can hardly go a day or night without viewing beautiful Christmas trees. The trees are in abundance and delightfully decorated in churches, homes, offices, malls, and embellishing streets. But, have you ever wondered how Christmas trees became so prevalent and widely enjoyed nationwide or worldwide?
The history of the Christmas tree is quite intriguing and noteworthy. The Christmas tree tradition began in Germany when Christians decorated trees in their homes. It was believed that Martin Luther (Protestant reformer) was the first to add lighted candles to a tree and got the idea to do so after a walk home one evening in which he marveled at the twinkling stars among evergreens. In the USA 1830s, the first public community Christmas trees were on display by the German settlers of Pennsylvania. However, to most Americans in the 1840s, the Christmas tree symbolized paganism and was not accepted.
The tempo changed in 1846 and there was an increase in the popularity of Christmas trees when Queen Victoria and Prince Albert were observed standing with their children around a Christmas tree.
Soon, Christmas trees and ornaments became fashionable not only in Britain but in America in the 1890s. Americans preferred Christmas trees that spanned from the floor to ceiling while Europeans enjoyed small trees, usually a height of four feet.
By the 20th century, the Christmas tree was a decorated evergreen coniferous tree. Americans decorated trees with homemade ornaments, while German-Americans used nuts, apples, popcorn, berries and cookies. Christmas lights were utilized once electricity was invented allowing Christmas trees to glow beautifully. Christmas trees are now a wonderful American tradition and tree lighting ceremonies occur nationwide every year.
The Christmas trees at the Governor's residence carry on the American tradition. Recently, Governor and Mrs. Dannel P. Malloy invited members of the press to join them in celebrating and kickoff the Holiday Season at the Governor's Residence.  It was a relaxing, mix and mingle party time.