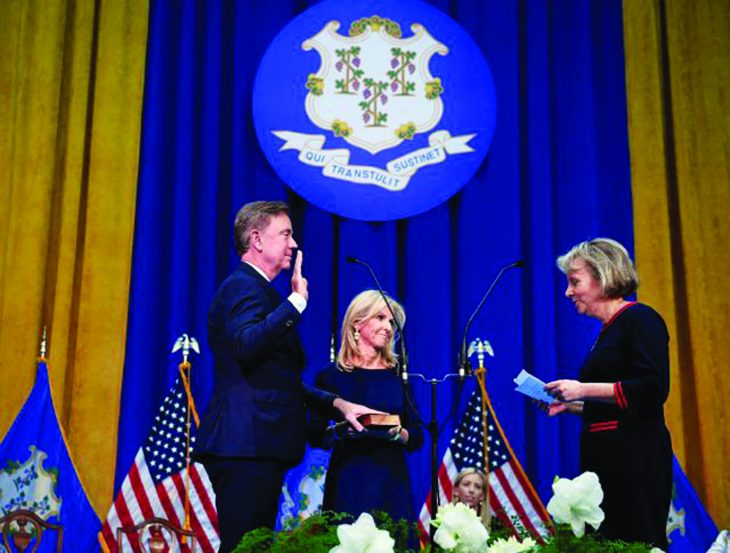 HARTFORD, CT: Democrat Ned Lamont, and with his wife Annie holding the Bible, was sworn in as the state's 89th governor. Right from the beginning, Lamont opened the floodgates of optimism in his inaugural address and the State of the State Address.
An apparent straight shooter, he struck a chord where the needs are greatest, promising to reinvent Connecticut by creating more job opportunities, targeting better and improved technology, transforming Connecticut's cities and put in place faster trains to New York City.
Besides, in his State of the State Address, he spoke the language of the people's house to the General Assembly, pledging great collaboration with Republicans, teachers, business leaders, union members, State House Representatives. He thanked the many groups and numerous state employees. Lamont reached out for their support as he builds on their strengths. "And it starts with the best educated workforce in the world. Companies roam globe looking for talents. Look no further, you can stop right here," Lamont said.
The consensus among Democrats and Republicans was that his speech was not political and avoided partisan, setting the tone for working together.
Also Lamont touched on one of the biggest challenges, balancing the budget and reducing the projected deficit of $1.7 billion. His appeal, "Let's balance the budget," pledging that it will be done. Other thorny issues touched on include, electronic highway tolls; recreational marijuana, and sport gambling; increasing the minimum wage to $15.00 an hour.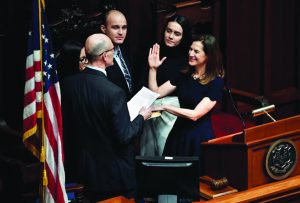 The feedback and together with the tone of Lamont's speech was a welcome to several lawmakers. They stand ready to work with the new leaders. Also, three former governors were in attendance to give support to the new governor, Gov. Lowell P. Weicker Jr., independent; Republican Gov. M. Jodi Rell; and Democratic Gov. Dannel Malloy.
Lt. Gov. Susan Bysiewicz, a Democrat took the oath of office, pledging to work with the bipartisanship. "The road ahead might be tough, but we can and we will confront the important issues and challenges facing the state," she said.