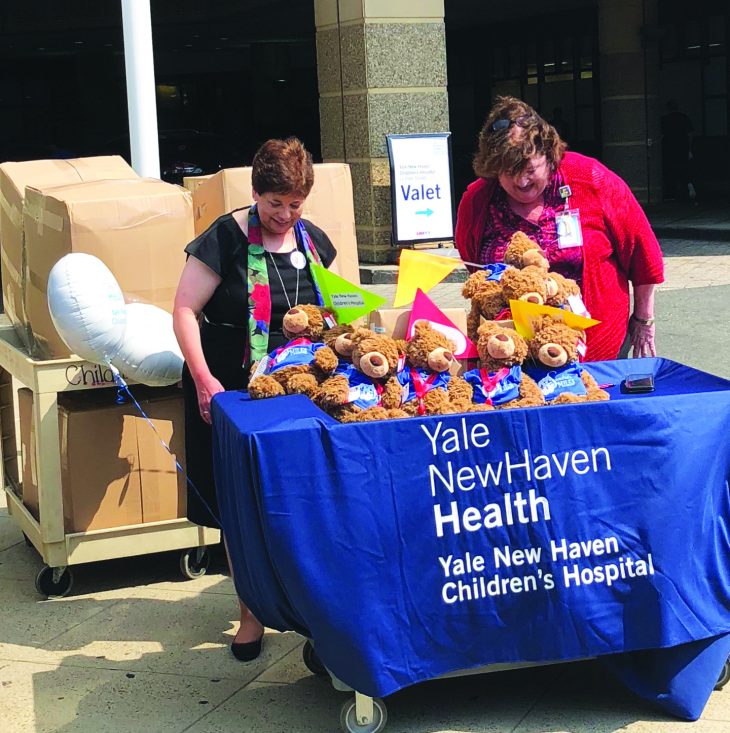 Teddy Bears Ride CT Train For A Cause
Over 400 teddy bears rode the CT Rail train from Hartford Union Station to New Haven Union Station. Then they boarded a bus to Yale-New Haven Children's Hospital where they reached their final destination—children's hugs. The idea of teddy bears journeying to provide comfort to children undergoing treatment for cancer was launched by the family of Sandra Guzzo.
Sandra Guzzo was diagnosed with cancer 15 years ago and passed away last year.  Guzzo's grandson, Tyler Lauretti, described his grandmother as "kind, caring, generous, and would give what little she had to those in need."
"When my grandmother was waging her battle with cancer, she always commented on how she would love to do something for children undergoing cancer treatment to help them smile," he stated. Lauretti said that after his grandmother passed away, the Sandra's Smiles Project was established "to do something in her honor."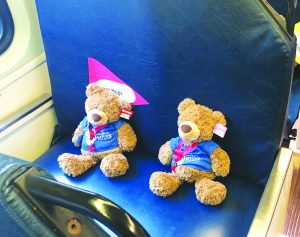 "We want to make sure that when each kid receives a bear, this provides a sense of strength, joy, hope, warmth, and bring a smile to a child's day," Lauretti added. His sister, Melissa said that her grandmother would love the charity. "It would be right up my grandmother's alley and she would be so happy to be involved."
The teddy bears wearing customized blue t-shirts with the name Sandra Smiles, was donated by GUND, a manufacturer of stuffed animals. Several volunteers, friends of the Guzzo family, participants from the Connecticut Department of Transportation, and the GUND Corporation traveled with the teddy bears on the train and bus.
Linda Guzzo, Sandra's daughter, runs the Sandra's Smiles Project commented: "what's really amazing is how just a simple wish from someone who had a huge heart and always gave to others becomes a reality."
The Sandra's Smiles Project has plans to expand its activities to other hospitals in Connecticut and throughout the region. By October 2018, an additional 150 toy dogs are scheduled to be delivered, and before January 2019, an estimated 1,000 stuffed animals will be delivered to children at area hospitals.  For more information on this project that brings smiles to children coping with the challenges of cancer, contact Sandrassmiles@gmail.com