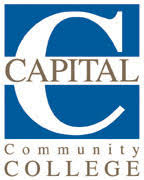 FREE CAREER TRAINING PROGRAMS FOR ELIGIBLE SNAP RECIPIENTS
Capital Community College (CCC) is offering free programs for eligible food stamp recipients who receive food stamps but no cash assistance. The SNAP E & T (Supplemental Nutrition Assistance Program—Employment and Training) scholarship programs are funded by the U.S. Department of Agriculture and administered by the Connecticut Department of Social Services.
Connecticut's first SNAP program began in 2008 at Capital Community College. The goal of the program is to help students gain skills and training that lead to employment and financial independence. After students complete the program, they will have additional credentials which will make them more competitive for the job market.
The variety of certificate programs offered provides real life experience along with essential academic lessons.  Programs include, but aren't limited to, Accounting/Bookkeeping; Administrative Medical Assistant; Administrative Office Assistant; Certified Nursing Aide; Community Health Worker; Customer Service Representative; EKG Technician; Entrepreneurship; Cook's Help; Hospitality & Food Service Management; Patient Care Technician; Pharmacy Technician; Social Services Assistant; Urban Farming, Personal Finance, and more.
In addition to the students' coursework, they can participate in interactive workshops geared towards providing them with the skills to be successful in the classroom as well as the workplace. Students learn how to efficiently manage their time; effective study skills; test-taking strategies; decision making/problem solving skills; specific job search strategies; resume and cover letter writing; and interviewing techniques.  These skills help students to successfully transition from training to a career.
Classes in CCC's School of Workforce & Continuing Education certificate programs are forming now and on a continuing basis. If you are interested in learning more about or participating in one of these programs, please contact CCC's SNAP Info Line at (860) 906-5029 or email Ca-learnmore@capitalcc.edu.