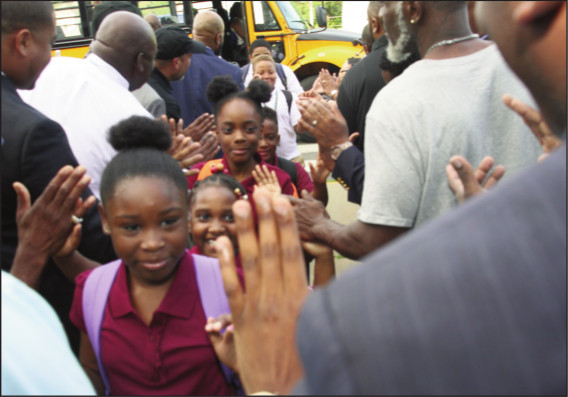 First Day At Rawson, Martin Luther King, And HASDA Schools
            HARTFORD, CT: After a summer's long planning and preparation for First Day, when the day finally arrived, one could not miss the excitement at Rawson School, which is now housing Martin Luther King, Jr. Social Justice Middle School while demolition and renovations take place at the old Martin Luther King School building. And the fever of excitement also extended to Hartford Area SDA School (HASDAS) in a series of grand celebrations.
The happenings at these schools were sights to behold, mothers, fathers, grandparents, buses dropped students; principals and teachers greeting students; students were welcomed heartily by some 70 members of the Calling All Brothers group, welcoming students, giving them high-fives and the assurance that they are not alone, they are being cared for—all aimed to inspire students' academic excellence during the new school year. Students saw successful men who have succeeded in the various professions who took the time to encourage and inspire them and wish them well for the new school year. One supporter from the Calling All Brothers group remarked to students as he cheered and encourage them along: "We are looking at future teachers, lawyers, engineers, doctors, scientists, and more.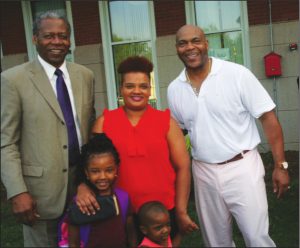 Rawson's Principal Dr. Tayarisha Stone described the atmosphere as "Everything went smoothly." I am excited and happy for the students. Now the building is being filled," Stone said. Martin Luther King's School Principal Dr. Doreen Crawford described the atmosphere as one of positive for the students. She lauded the welcome from the Calling All Brothers now in its fourth year and continues to be role models to these students, many of whom have no models. There is nothing to prevent them from excelling.
The call is to lay down the rules for academic excellence, beginning and at the early grades; and anticipate an increase in academic standards as students move up the ladder of success. Senator Douglas McCrory and our new judge, Judge Eric Coleman, never missed coming out as part of the Calling All Brothers in support and inspiration for the students, welcoming with special highfives. Clearly, the Calling All Brothers to encourage all students to excel is setting the right tone at the beginning of the new school year is the right thing to do. Something has to happened and happen soon—too many black men got it wrongly choosing the path from school to the prison track.
They must be rescued early; they all have the brain capacity to do well and are needed to be role models in the home, school, churches, community and all areas of trades and academic. "The Calling All Brothers are doing the right thing, inspiring and rescuing the kids from an early age," said one of the brothers, Describing the atmosphere of First Day at HASDA School at 474 Woodland Street, Hartford, CT, Principal Grafton Jones said, "It was a fun day and with new kids meeting new families. So First Day was a family fun day.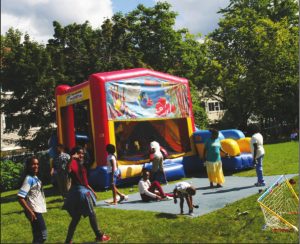 Starting off with General Assembly, followed by sporting activities—music with a DJ, Bouncy, kids, families and teachers had a great time. They all felt at home," Jones said. "We are looking forward to having a strong and successful academic year. Our returning students will continue to set the academic bar for the new in-coming students," Jones added. Last school year our students scored very high on the post-tests and the Iowa Tests. Students are scoring three to four points above goals." First Day at HASDA School was an excellent day, lots of fun, food, and an amazing day for everyone of us and we loved it," said eighth-grader Maria.